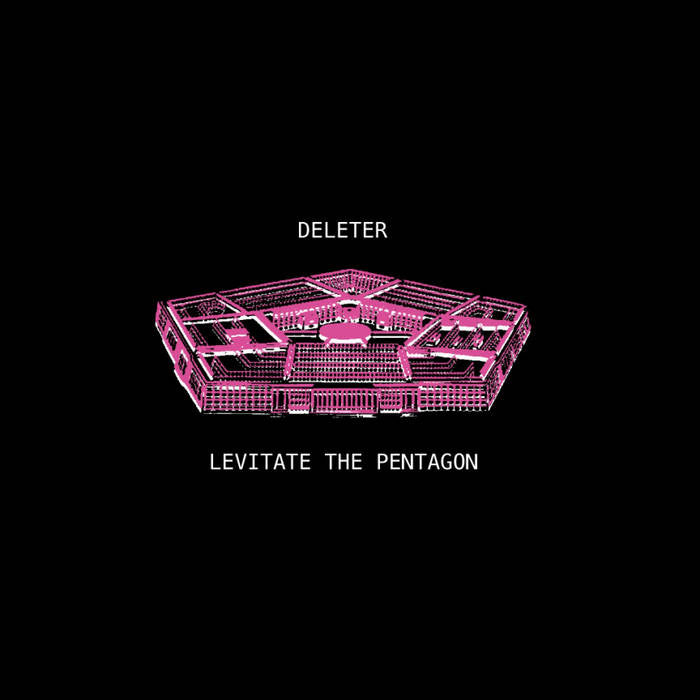 Deleter "Levitate The Pentagon" Cassette
Levitate The Pentagon, the seventh release from the Minneapolis group Deleter, is a concept album based loosely on generations of comic book lore interweaved with social/political commentary on the history of western culture's role in the world today. With nods to Alan Moore's Watchmen, The World's Greatest Detective, Marvel's cosmic universe, the Atomic Age of comics and more, Deleter weaves narratives, meaning and connections between a fantasy world and the reality of today. Whether it's themes set to spooky, reverb laden pulses or to fiery post-punk blasts, Levitate The Pentagon is a refreshing take on, as well as a dour view of the state of the world seen through a comic book landscape.

Deleter is comprised of vocalist/guitarist Knol Tate (Askeleton, Killsadie), bassist/vocalist Travis Collins (A.M. Stryker, We Are The Willows), drummer/percussionist Josh McKay (Farewell Continental, Small Towns Burn A Little Slower) and guitarist Jordan Morantez (Blue Green, The King & The Thief).

Formed in 2012, Deleter quickly managed to refine their sound to a bold, loud, yet dynamic sonic force. Tate's lyrics comprised of poetry with classic and surreal lyricism create a voice with a unique perspective. Having long lists of clear influences like garage rock, post-punk, hardcore punk, psychedelic rock, as well as less obvious influences like 60's biker, surf, spy and sci-fi movie soundtracks; Deleter blends genres sometimes calling to mind music as diverse as Wire, The Fall, Public Image LTD, Davie Allan, The Ventures, The Ex, Born Against and Psychedelic Furs. No matter the inspiration or the influence, Deleter has been able to create their own sound in the time they've been together. Fierce, catchy, noisy, and reflective; almost militaristic, Deleter sounds deliberate, sincere and purposely crafted.

For fans of forward thinking punk music and forward thinking comics.

Pressing of 100 copies on professionally dubbed and packaged cassettes.
---
---
More from this collection