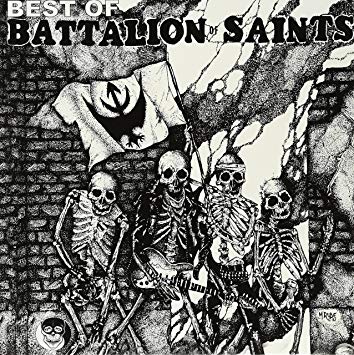 Battalion Of Saints "Best Of" LP
Studio Side
A1 Chris Smith W/ Greg Dumis '81 A2 Modern Day Heroes A3 I Wanna Make You Scream A4 Holy Vision A5 Witch World A6 Right Or Wrong A7 Intercouse A8 Solitary Is Fun A9 Animal In Man A10 Sweaty Little Girls
Live Side
B1 Fighting Boys B2 Second Coming / No More Lies B3 Fair Warning B4 Cops Are Out '85 B5 My Minds Diseased B6 No Time B7 Ace Of Spades B8 New Rose B9 Enema
Studio side:
Tracks A1 through A3 were recorded at Hit Single.
A2 and A3 are from the "Fighting Boys" EP.
A4 through A9 were recorded at Hit Single in the Fall of '82 and are from their 8 track demo.
A10 was recorded at Mystic studios in '83 and was originally released on the Destroy L.A. LP.
Live side was recorded live at Fairmont Hall 1/25/85.
Second track on B2 is unlisted on back cover & label.
---
---
More from this collection