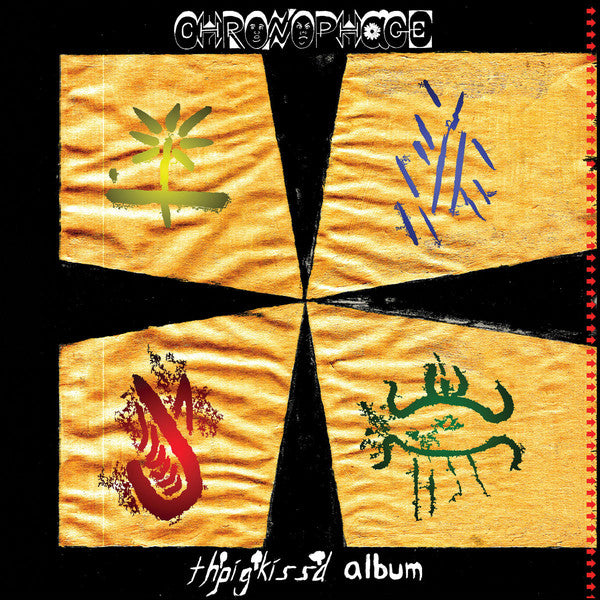 Chronophage "Pig Kissed Album" lp
"Chronophage's first album, Prolog For Tomorrow, was released by the end of 2018. On December 28th, 2018, to be precise. One of those days between Christmas and New Year's Eve, where everybody seems to be in hibernation and nobody pays attention to what's going on outside. No wonder that we only discovered this album months later, in April 2019. We were hooked immediately. While we were waiting on our vinyl copies to arrive from the other side of the Atlantic Ocean, Michiel brought a USB-stick with MP3s of the album on tour. We listened to it in France, Germany, Belgium, Switzerland, Italy and the United Kingdom, and we weren't tired of it yet when we got back to Rotterdam. There was just something about this youthful mix of different shades of DIY guitar-based music and timeless songwriting. The audio fidelity sealed the deal, alternating from slightly lo-fi to flat out lo-fi, lending the record its mysterious aura. Easy to say, Chronophage's debut was one of our favourite albums of 2019.
Thanks to some mutual friends, we got in touch with
 

Chronophage somewhere during the probably unforgettable Spring of 2020. That's when the idea to start our own label came to life. We asked the band if we could do a European release for their new record, and here we are. The fidelity is slightly higher this time, but the spirit of the music and recording is very much the same as the spirit of the album we fell in love with in April 2019, the songs are just as beautiful. Soft Office's first release is Chronophage's second: The Pig Kissed Album.
 "
---
---
More from this collection