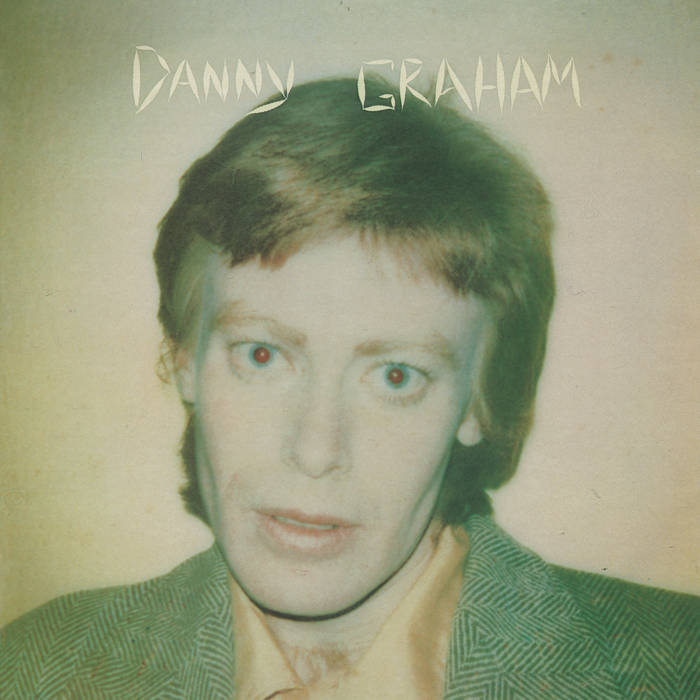 Danny Graham "S/T" LP
Side A: Put The Blame On Me, We'll Make A Deal (In Amsterdam), Love Start, Ev'rything Will Grow From Here, Red Moons Anchoring The Sky, Early Morning Heat Wave, Doing It Easy, Swimmin' In The Colo
Side B: Sister Roulette Eyes, Hazel I Don't Know, Baby Don't Shoot, Jennifer, Feeling You Beside Me, Leopard Lady Sally-Marie, Watercolours In The Sun, Wishin' For A Daydream
"Ordinarily the kind of record that would make us run a mile, Danny Graham's personality shines through on every song, and the LP's low-budget, home-recorded loner charm has turned it into an enduring favourite." - Wallaby Beat

Xerox Music is delighted to announce the first reissue of the self-titled debut album by Danny Graham. Originally released in 1980, it is a high watermark in the field of Australian home recorded, self-released singer-songwriter albums. The album is occasionally described as psychedelic, most likely because it doesn't really fit squarely into any other classification. On paper it could be described as simply a blend of folk and soft rock, but that doesn't quite hit the mark. Danny's unique songwriting, whispered vocals and multi-tracked guitars combined with the low-budget production elevate it to something greater than the sum of its parts.

For a long time it was a bit of a mystery just who Danny Graham is and what had happened to him. He released two unique LPs and one single in very quick succession at the beginning of the 80's and then seemingly vanished. Of the people we spoke to who remember or knew him from that time, no-one had seen or heard from him in years. Some of the musicians listed in the credits had no idea that the records had even been released. Well, despite the rumours, it is 2018 and Danny Graham is very much alive and well!

Daniel Grahame [sic] Blundell grew up in the northern suburbs of Sydney. Discovering music at an early age, he picked up a guitar and in 1970 while he was still in high school, formed his first group with classmates Lindsay Campbell and Ivor [sic] Davies. They called themselves Lucy Fields, a name they found scrawled on the back of a second hand acoustic guitar. The group lasted a few years, gigging regularly around folk circles and youth clubs in Sydney and eventually managed to secure a recording contract with M7 Records. They recorded an album's worth of material in M7's Sydney studios but in a stroke of bad luck the company changed hands at around the same and the album was shelved. The group disbanded in 1974 and their album remains unreleased.

Danny and Ivor pushed on, forming Afghan in 1975 with another old school friend Ross McLaren, and a drummer known simply as "Stix". They continued on, making occasional live appearances at wine bars in Sydney's CBD and on the Northern Beaches. Before too long they found themselves at Col Joye's ATA Studio on Glebe Point Road recording their debut single. "Leading Lady" b/w "I'm Gonna Give You All My Love" (a D. Blundell penned tune) was released as an Ivor Davies solo single by Happening Productions through RCA. The single had a heavy Marc Bolan influence (especially in the vocals) and although it did receive a spot of airplay on Double J, it failed to make much of an impact. A second single followed shortly after and this time the band was acknowledged on the labels. "Back To California" b/w "I Can Reach You" by now "Iva" Davies & Afghan came a few short months later, once again through RCA. A falling out between Danny and Iva meant that the band would split up and go their seperate ways. In 1977 Iva formed a band called Flowers who would change their name to Icehouse in 1981. There is much written about Iva and his post-1970's career elsewhere...

For the next few years Danny went into hibernation, taking a break from playing in bands. He spent some time travelling through Europe and, once back in Australia, was busted for marijuana possession. Spending six months behind bars, he continued to write songs and formulate a plan to launch his very own solo career. Inspired largely by Bowie and the rough nature of some of the demo quality Bob Dylan bootlegs that were appearing at the time, Danny set out to record a home-made approximation of his heroes' work. As the end of the decade closed in, with a lot of ambition and a handful of songs ready to go, Danny started working on his first solo record. He enlisted help from a few friends with recording experience and seemingly whatever musician friends and friends of friends were available on any given day to contribute. The album was recorded on a TEAC 4-track in various houses in Sydney's north and north-west over several months. The vocals, string instruments and keys were done first with the drums overdubbed at the end.

1000 copies were pressed by the EMI Custom pressing plant in Sydney in early 1980 and the distribution was handled entirely by Danny. He has admitted that he found self-promotion to be somewhat distasteful and a bit of an "ego trip", and had hoped that a label or distributor would pick up the album to get it to all of the right places. In the absence of outside assistance, Danny walked copies of the album into a few local independent record stores and sent copies to just about every local radio station and music magazine that he could think of. Of the magazines that did run reviews of the record, the response was lukewarm at best. Without any formal distribution and no band set up to play live, the record sold poorly. Sydney community radio station 2SER had a few songs from the album in rotation for a couple of months but that did little to advance the cause and the album virtually sunk without trace. Over the years almost all of the remaining unsold records (potentially more than half of the original pressing) were taken to the tip or simply destroyed, meaning that finding a copy of Danny Graham's self-titled LP in 2018 has become incredibly difficult… until now! 
---
---
More from this collection