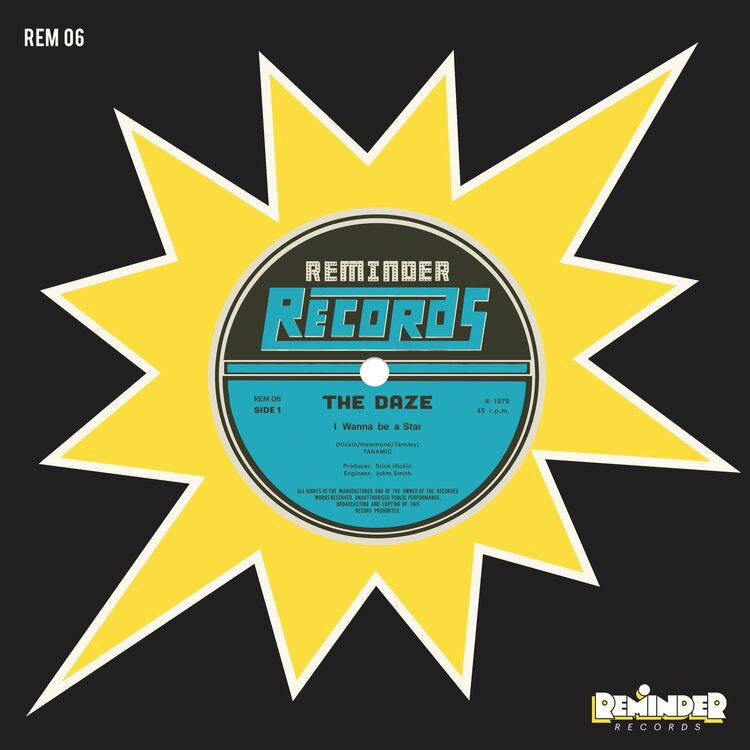 Daze, The "I Wanna Be A Star" 7"
Wow!  Now That's What I Call Brum Beat! 
 THE DAZE, a three-piece band from Birmingham, England, featuring Phil Hickin (guitar/vocals), Rob Tansley (drums/vocals), and John Hammond (bass), formed in 1978 out of the ashes of previously unrecorded combos, GREYDAY, FIVE KNUCKLE SHUFFLE and 3 LITRE. Gigging in pubs and small venues, the trio recorded and produced their lone 1979 single live to four-track in local label Motor City Rhythm's rehearsal studio in two hours. Issued in February 1979 and sold mainly at gigs, THE DAZE's single has remained one of the Holy Grails of U.K. punk since the time of its release, not only because of its impossible rarity, but also the high-quality of its two tracks. 'I Wanna Be A Star' dares to proclaim what every other punk band was too scared to admit over a thin Mersey-punk guitar line and melody while 'At The Seaside' is less Mod's Mayday and more D.I.Y. day-tripper strum und clang. In other words: a classic!  THE DAZE recorded two other tracks which are unreleased and likely lost before breaking up in 1982. In a better world they'd have been the next SPENCER DAVIS GROUP.  Recommended to everyone without a trust fund.
---
---
More from this collection