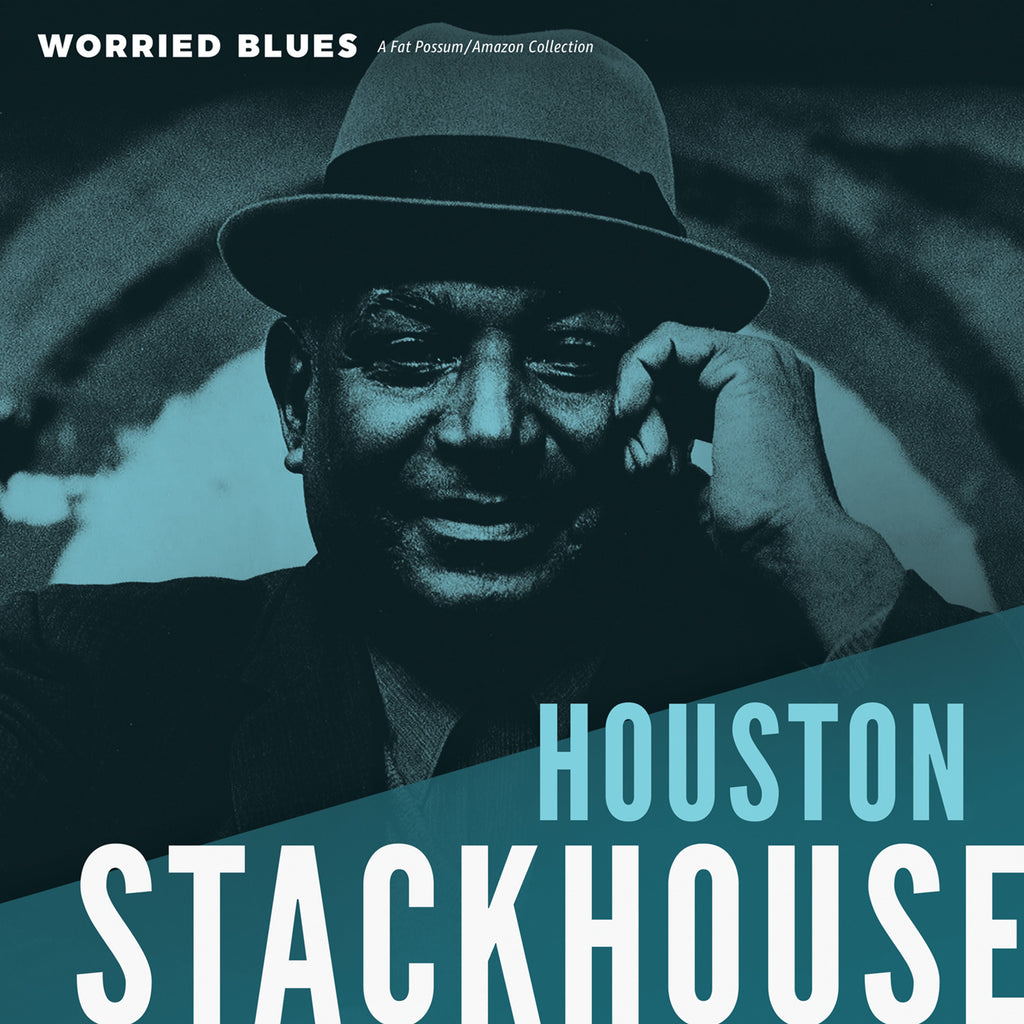 Houston Stackhouse "Worried Blues" LP
1. Kind Hearted Woman Blues
2. Bricks In My Pillow
3. Bye Bye Blues
4. Sweet Black Angel Blues*
5. Pony Blues
6. Cry On! Cry On!
7. Cryin' Won't Help You
8. I Got Something
9. Maggie Campbell Blues
10. Big Road Blues
11. I'm Gettin'
(Recorded 1972)
Full-length, rare, and out of print releases all available on vinyl for the first time in beautiful packaging with liner notes by musician/historian Elijah Wald.
Read about the series here
'Worried Blues' – a series of 10 albums featuring rare and previously out-of-print recordings. Worried Blues features rare, lost, and out-of-print recordings from 10 towering figures of 20th Century delta blues, including R.L. Burnside, Reverend Gary Davis, Honeyboy Edwards, Mississippi John Hurt, Skip James, Furry Lewis, Little Brother Montgomery, Houston Stackhouse, Bukka White, and Reverend Robert Wilkins. There is one full album devoted to each artist.
The bulk of Worried Blues was recorded from 1963-1972 by Gene Rosenthal, blues scholar and founder of Adelphi Records, along with contributions from acclaimed musicologist and one of Rolling Stone's 100 Greatest Guitarists of All Time, John Fahey. The 10 albums provide a rich and varied catalog of artists who were scattered across the Mississippi Delta, largely inactive until a new generation sought them out.
Rosenthal and Fahey came upon these artists through word-of-mouth tips, hopeful searches, and cosmic kismet. For Skip James, these recordings would be the first since his initial rise during the Great Depression some 30 years prior. In the case of Bukka White, a nondescript letter from Fahey sent to "Booker T. Washington White (Old Blues Singer)" with no address, miraculously made its way into the right hands. These recordings sat untouched for over two decades before seeing a limited CD release in the early 1990s on Adelphi. Worried Blues represents the music's first widespread release, and first time on LP.
These recordings have long been highly treasured, primarily for their striking variety. Despite nine out of the ten artists hailing from central and northern Mississippi, no two styles are alike. From the ragtime folk-tinged blues of Mississippi John Hurt, to the ebullient signature slide guitar of Furry Lewis, which would later earn him an opening slot on tour with the Rolling Stones, Worried Blues preserves an exceptionally rich moment in our cultural history. In his thoughts on the series, Grammy-winning music historian Elijah Wald explains, "the richness of Mississippi blues derived from the combination of isolated, majority-black regions populated largely by young newcomers from other areas as the Delta swamps were drained at the turn of the 20th Century, and these players created quirky, individual styles by mixing older sounds with what they were hearing from neighbors, records, minstrel and vaudeville troupes, and whatever other influences came their way."
---
---
More from this collection