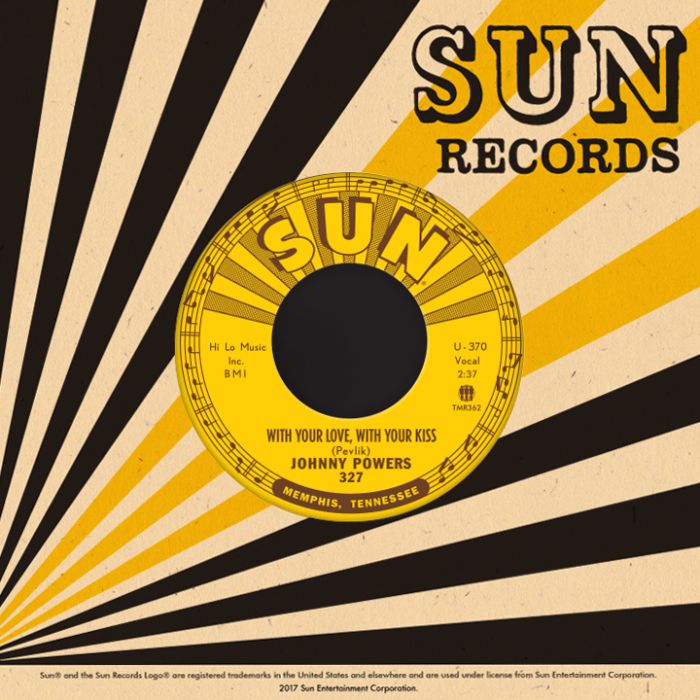 Johnny Powers "With Your Love, With Your Kiss" b/w "Be Mine, All Mine"
Side A: With Your Love, With Your Kiss
Side B: Be Mine, All Mine
Almost all of Sun Records' early rock and roll artists hailed from the South. The one exception in these formative years was Detroit native John Pavlik, better known as Johnny Powers. Releasing his first songs with the fantastic Detroit label Fortune Records, Powers was determined to be signed to Sun Records after wearing out his copies of Carl Perkins and Elvis Presley singles.
His sole release on Sun titled "With Your Love, With Your Kiss" b/w "Be Mine, All Mine" is a highly collectible piece in the Sun catalog. The A-side is powerful and intense, with popping snare, blaring saxophone in the bridge and an impassioned Powers wailing all over the track. The B-side is more of a boogie rocker with an absolutely unforgettable falsetto vocal melody in each post-chorus.
After Fortune and Sun, Powers went on to release records with Motown Records, certainly the only artist to record for all three wildly diverse labels. This nugget of early rock history is not to be missed.
---
---
More from this collection