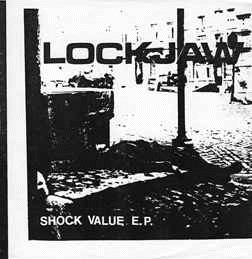 Lockjaw "Shock Value EP" 7"
Side A: Prison Call, Death To Cops, No Fun, Devil
Side B: Pop Your Head, Nazi Dentist, Go Back, Cut UP
Back in stock their first 7", self released in 1982.
Lockjaw was formed in Portland, Oregon around 1980 by Del Murry (guitar), Tony Arcudi (vocals),
Eric Couch (bass), and Rob Parker (drums)... the band played clubs like The Met, 13th Precinct,
and the Satyricon in the early days. By 1984 drummer Rob Parker was replaced with Jeremy J.,
and guitarist Garrett Garitano was added to the lineup. By that time Lockjaw was labeled "Portland's
most hated band." Lockjaw was ripped by the media, protested, and a couple of local record
stores destroyed all the band's records.
---
---
More from this collection