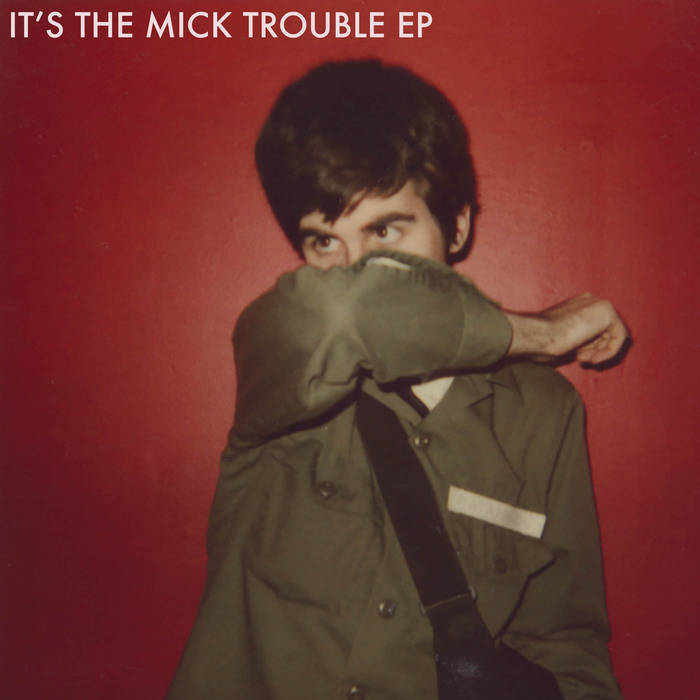 Mick Trouble "It's Mick Trouble EP" 7"
REPRESS

Side A: Second Offence, Miss Margaret
Side B: Shut Your Bleeding Gob You Git, Boogiemon Stories
Lost legends of pop music seem a dime a dozen these days, with internet ghouls stalking history's graveyard exhuming the forgotten, under-heard, or never heard opus of some suburban recluse every minute, but few of them can match the bizarre story of the rise and snail-paced stumbled of one Michael Tooney-Head, born Muswell, London August 1963— otherwise known as lost post-punk troubadour Mick Trouble.

It's easy to forget that for a brief time in 1981, Mick Trouble was on the verge of becoming The Band That Saves Britain. But Trouble was just that- poised to make the leap from the esteemed bard in hallowed hip circles including the likes of post-punk trailblazers Swell Maps and Television Personalities to that of a superstar that would give Declan McManus a run for his money. But a week before Trouble and his band were to make their seventh appearance on John Peel in just two years, something happened.

Trouble disappeared. And so, seemingly, did his music- until now. Emotional Response is proud to present the long-coveted 1980 Trouble EP- "It's The Mick Trouble E.P.", cut directly from a master reel discovered earlier this year under a cookie jar in his basement, along with a never-before-heard jam, year unknown, featuring The Glitter Band, Lemmy Kilmister, and Damo Suzuki. (Stay tuned.)

The result is what will be for many the first time they've heard Trouble's music- spiky, sarcastic, often louche two-minute bursts of pure pop which recall both Dan Tracey and Nick Lowe at their sodden best.

A rather special piece of plastic, then. 
---
---
More from this collection