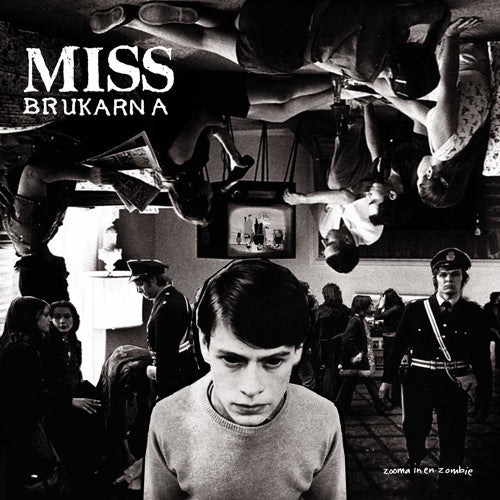 Missbrukarna "Zooma In En Zombie" LP
Tracklist
A1

Du Är Inte Du

A2

SFF

A3

Datorstat

A4

De Nakna Och De Döda

A5

Jag Skiter Väl I Dig

A6

Krig I Hudik

A7

Dom Ska Få En Läxa

A8

Sexkontroll

A9

Jag Tror På Mig

A10

För Sverige I Tiden

A11

Den Ömsesidigt Garanterade Förintelsen

A12

Mutera

A13

Tredje Rikets Sal

B1

Överlevarna

B2

Skydd Mot De Fattiga

B3

Äcklet

B4

Vredens Dagar

B5

Brinnande Kors

B6

Kristen Resning

B7

Vän Av Ordning

B8

Energi Åt Sverige

B9

När Man Skjuter Presidenter Så

B10

Stela Små Barn

B11

Var Är All Sex?

B12

Sexteknik

B13

Även I Små Krig (Gråter Starka Män)

B14

Våldets Triumf

B15

Vi Blev Rädd

B16

Slö, Slapp, Likgiltig

B17

Söndra Och Härska

B18

De Nakna Och De Döda

B19

Kristen Resning

B20

Döda, Döda För Inre Frid
Tracks A1 to A4 are from the 1980 Missbrukarna / Panik split 7" EP, recorded in 1980.
Track A5 is from the tape compilation "Sommar-Mix!" (1982), recorded live @ Forsa Studio in 1980.
Tracks A6 to A10 are from a rehearsal recording @ Forsa Studio, Summer 1981, previously unreleased.
Tracks A11 to A13 are from the 1983 Really Fast Really Fast Vol. 1 compilation LP, recorded in 1983.
Tracks B1 to B17 are from the 1983 Krigets Gentlemän tape, recorded & mixed Summer 1983.
Tracks B18 to B20 recorded live in concert in 1987 @ Forsa Studio, previously unreleased.
Issued with gatefold cover and a printed insert with lyrics and liner notes.
---
---
More from this collection