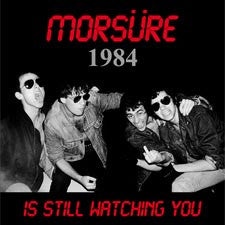 MORSÜRE "1984" 7"
Side A: M.A.D., Morsure
Side B: Neither Pity Nor Remorse, L'irremediable
Morsüre was born in January 1984. The first band includes two guitarists, a bassist and a drummer. But very soon, musical divergences appear, forcing Morsüre to crack down in the form of a power trio. From March 1984, Morsüre was able to satisfy his ever-growing thirst for hyper-violence. For five months, Morsüre has forged a repertoire, combining originality, technique and dementia in the absolute, crossing one by one the stages that must lead them to what is their leitmotiv: "to be the fastest group in the world" . Since then, in their perpetual quest for madness, they have joined the offices of a crazy singer who, freeing the bassist from this task, allowed the group to pursue its course towards musical extremism.
So, you who associate your mind with the "Mutual Assured Destruction", be sure that you enter the territories of ultimate violence without any hope of getting out. For the Larousse is formal: Morsüre, any harmful effect, violent attack, action of the acid initiating the metal.
Action, for it is indeed a question of action. It is not the feverish agitation which animates the human being, but to destroy to create a parallel world, a world of joy in hatred, of strength in domination. For this, Morsüre uses the so-called traditional means: his action is in a musical plane, it seems between Hardcore and Metal. But in reality, Morsüre evolves in a world without borders, with the irrationality of its movements. Expression in the lucidity of an extreme madness, they refuse the status of being human, to claim angrily the membership of a really different ethnic group.
Acide, because this is indeed a real alternative to Metal, this rational music and naturally human, losing itself in simplicity.
Morsüre introduces a discontinuity in the history of music, taking away its original essence, replacing harmony and melody by the ultimate violence. You who, by G.B.H and Venom, have already managed to get out of the sticky people, will be by an implacable logic led to idolize Morsüre.
---
---
More from this collection