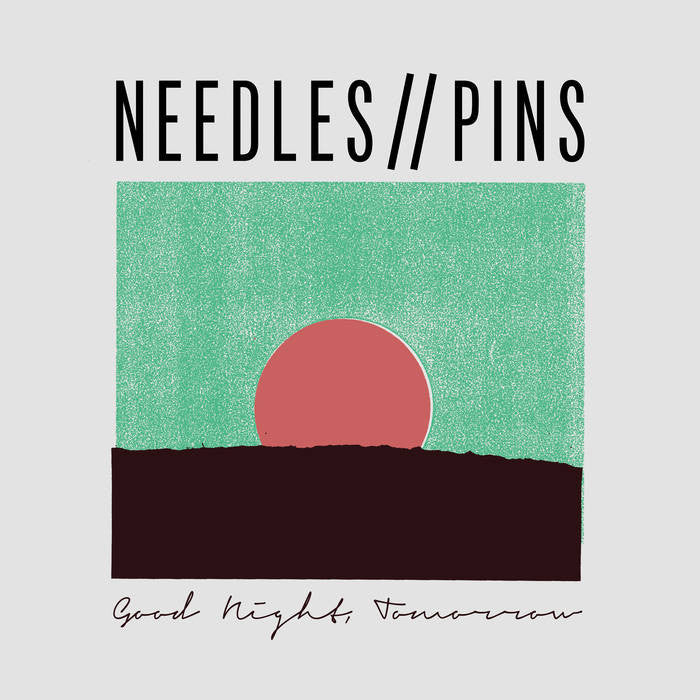 Needles // Pins "Good Night, Tomorrow" LP
Side A: Good Night, Violet, Back To The Bright, Time And Tide, Sleep, Miracle
Side B: Boil, All The Same, Pressure Points, Untitled (You're Fine), Something New, Tomorrow
Vancouver power-trash trio Needles//Pins began in 2009 as an excuse for three friends to hang out. Two LPs and a handful of 7 inch singles later, the band has come a long way but are still, at its core, a few friends having fun. 2017 sees the band set to release its third LP Good Night, Tomorrow. The record is a progression both musically and lyrically from their older material while still maintaining the hook-centric philosophy of their previous releases. The band has become legendary in Vancouver for wild shows and gruff but catchy punk rock melodies. It draws from classic punk roots like the wiry pop of The Buzzcocks and the gravely anthems of Stiff Little Fingers, but has a unique West Coast approach that would align itself with the catchiest of the Lookout! or Dirtnap Records catalog. Though none of the band's songs overstay their welcome, you'll find yourself humming one of their hooks days after seeing them play or hearing the record. Recorded with Jesse Gander (Japan-
droids, White Lung) in Vancouver at Rain City Recorders, the record shows an organic growth from the power pop of their previous two albums. Guitarist and singer Adam Solomonian's voice is gruffer from playing hundreds of shows, and you can see a richer appreciation of the group's influences such as Jawbreaker and the Replace-
ments at play in the song writing. Tony Dubroy's solid bass lines and Macey Budgell's heavy drumming combine to form a powerful rhythm section that perfectly complement Solomonian's simplistic-but-pointed guitar playing. Vancouver's Mint Records have teamed up with Dirt Cult to co-release the record. Needles//Pins have heavy North American touring planned for the summer including performances at Sled Island, Ottawa Explosion and Pop Montreal.
---
---
More from this collection