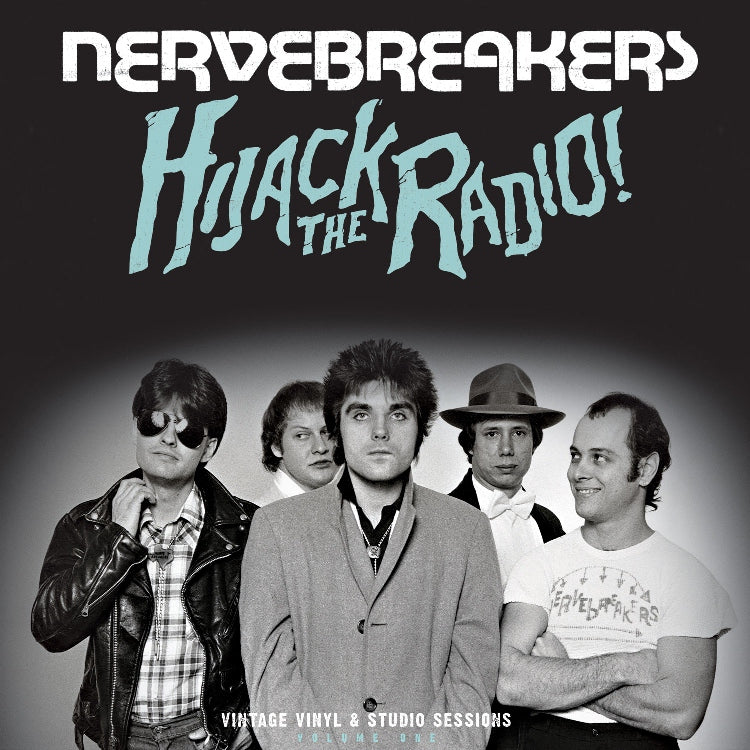 Nervebreakers "Hijack The Radio" LP
Side A: Hijack The Radio!, My Girlfriend Is A Rock, Why Am I So Flipped?, My Life Is Ruined, I Love Your Neurosis, Everything Right
Side B: Missa Moses, So Sorry, I Wanna Kill You, It's Too Late, Beyond The Borderline
An anthology of mid to late 70s studio recordings, some of which ended up on the Nervebreakers' late-70's 7″ vinyl releases on Wild Child Records, some on the 1979 Texas punk LP compilation Are We Too Late For The Trend? (ESR Records), some on a volume of Italian label Rave Up Records series of American Lost Punk Rock Nuggets, and others that have up-to-now never been publicly released.
Includes the original (and best) hit recording of "My Girlfriend Is A Rock", the title anthem "Hijack The Radio", and punk classics like "Why Am I So Flipped?", "I Wanna Kill You", and "I Love Your Neurosis".  Also included are proto-punk psych-y gems like "My Life Is Ruined" and "Beyond The Borderline".
The CD release has four additional CD-only bonus cuts including an early (different from the We Want Everything LP) take on the Troggs' great "Strange Movies", an original 1977 demo version of "Hijack The Radio", and from 1975, a moody slice of Syd Barrett-like proto-punk-psych called "See Me Thru".
---
---
More from this collection