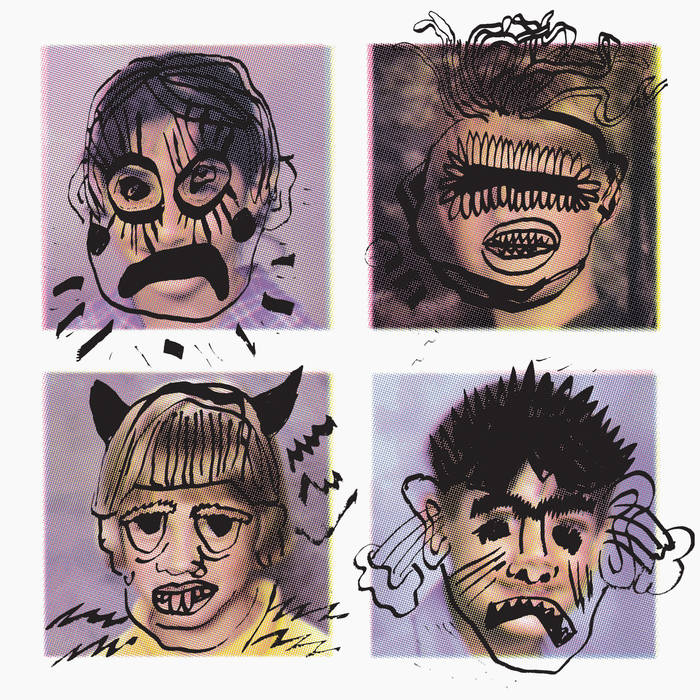 School Damage "S/T" LP
Side A: No Ideas, The Bus That Couldn't Slow Down, Gasbagging, Tall Poppies, Grown Ups, Online Shopping, Cloudy Skies
Side B: Particles, School Damage Rockers, Distance, Silent Zone, Try Something New, It's Not Goodbye
Chapter is excited to release the self-titled debut album by Geelong/Melbourne shambolic pop foursome School Damage. Originally formed as a bedroom pop project for Carolyn Hawkins (Chook Race, Parsnip) and Jake Robertson (Ausmuteants, Hierophants, Frowning Clouds), they were soon joined by Jeff Raty (Richie 1250 & the Brides Of Christ) on drums and and Dani Damage on bass.
School Damage's sound is defined by wobbly keyboards, weaving bass lines, and lyrical content focused on the anxieties of modern life and love. They take cues from 80s DIY pop outfits such as The Vaselines, Young Marble Giants and The Particles.
"A lot of the songs reflect a sense of self-doubt in relation to the world around me," says Carolyn. "I think the internet calls it a quarter life crisis."
The album's songs use everyday events, like going to the library or browsing ASOS, to explore emotional states of isolation, confusion and longing. Jake says his song Grown Ups is "about acting adult, having to have stressful small-talk conversations with people, not having fun in the rain etc. Some real Toy Story/Rosebud shit."
Particles is a fairly direct homage to the legendary Sydney "bubble- gum punk" band of the same name. "We're all massive fans," says Carolyn. "The actual lyrics came from when Dani and I went to a panel discussion about women in music, and when I got home I must have felt pretty upset about the state of things, so I wrote this song. I do think the best songs come from the worst moods."
School Damage have released cassettes and 7"s on Moontown and Detonic Records. They played King Gizzard's Gizzfest in 2016 and have shared stages with the likes of The Bats, Twerps, NUN and The Cannanes.
The album was recorded in Melbourne and Geelong by Billy Gardner (Ausmuteants, Living Eyes) and mixed/mastered by Mikey Young (Total Control, Eddy Current Suppression Ring).
School Damage by School Damage is the catchiest, most charming debut album you'll hear in 2017.
---
---
More from this collection