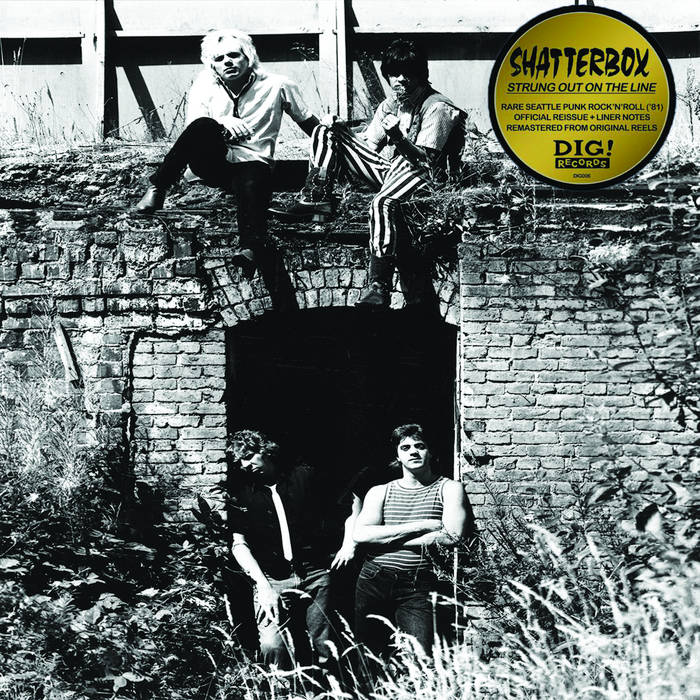 Shatterbox "Strung Out On The Line" LP
Side A: Strung Out On The Line, Dance Tonight, Anytime, Brand New Girl, Pop City, Just Can't Help It
Side B: Leaving Blues, Too Much Traffic, Someday Tomorrow, Go Down, Got To Have It, Time
• Rare & Raw Seattle Punk Rock'n'roll from '81
• Official Reissue
• Restored and Remastered from Original Reels

DIG! Records Archeological Division presents Strung Out on the Line, the all but lost private press powerhouse LP from SHATTERBOX. The band formed in 1979, at a major and sketchy (read: majorly sketchy) generational crossroads for what threatened to be the last gasp of Rock'n'roll in the '70s, and the new directions it'd take in the '80s. Recorded in their Seattle basement, the band utilized a mobile studio unit ala a low-rent D.I.Y. Exile Main on St., and self-released the album on New Year's Day 1981 in an unknown – or, at least now forgotten – quantity, and an array of handmade album art designs: stencil and spray paint; paste-on Xerox cutout; and bare-white factory sleeves, SHATTERBOX never followed standard operating procedures and Strung Out on the Line captures the band's wild and ragged original sound and style in full.

Newly restored and re-mastered by David Eck from the original quarter-inch reels and housed in properly printed jackets with liner notes displaying the numerous versions of album art and an oral history from the band's sole surviving member, Richard Pleasant, this LP is finally receiving the presentation it deserves – now, nearly forty years down the line.

Rocketing through twelve brash and energetic cuts of exuberant Punk Rock and raw Power Pop, the album sonically falls somewhere between THE HEARTBREAKERS, NERVOUS EATERS and either –or, better yet – both iterations of THE GIZMOS. Archetypal subject matter ranging from Sex to Drugs and onto Rock'n'roll are all addressed on tracks like "Anytime", "Got To Have It", "Dance Tonight", "Just Can't Help It", "Go Down" and "Brand New Girl" – typically all in the same song! More complex themes surface on a Proustian examination of time ("Time") and the quantifiable burden of modern life ("Too Much Traffic"), while the band's own creative force can be summed up by the chorus to "Pop City": Ain't nothin but a rock song. Ain't nothin but a pop song. Ain't nothin but a punk song. So whose doin right or wrong?

Strung Out on the Line is an unlikely album for rediscovery, given its diamond in the rough mystique – the precious few remaining copies fetch hundreds in collector circles – but fortunately for today's rocker, there's no expiration date on the musical contents contained herein. SHATTERBOX made their own way, shirking record industry conventions and sidestepping the musical trends touted by their Hardcore Punk and New Wave peers, to create something at once their own, and now ours again.
---
---
More from this collection