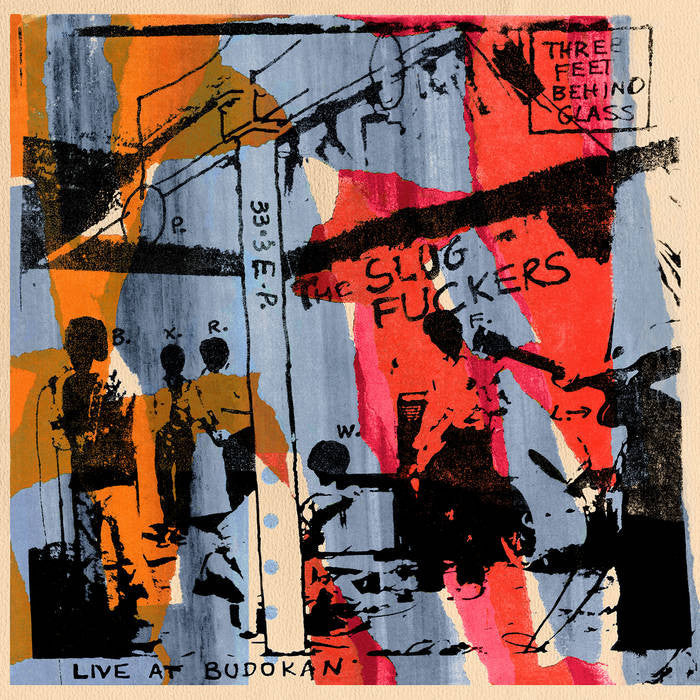 Slugfuckers "Three Feet Behind Glass and Instant Classic" LP
Side A: Cacophony, Mechanical Boy, Rhizome, Artificial Slits, Schitzo Revolution
Side B: Deaf Disco, Deaf Dub
The Slugfuckers were started in the late 1970s in Sydney, Australia by Terry Blake (vocals), John Laidler (guitar) and Graham Forsyth (bass) who were all at the time students or recent graduates of the Department of General Philosophy at Sydney University. Craig Wilcox (keyboard), Gordon Renouf (guitar, sax), Austin Laverty (drumkit) joined soon after.

They released two extremely rare singles in 1979 which are combined on this 12" and an album in 1981. Bridging the nascence of punk, DIY, and industrial, The Slugfuckers took the true intent of punk and carried it to a logical extreme. With shouted vocals, almost rudimentary playing, volume on ten and many obligatory messy interludes they enthralled, engaged and repelled in equal parts….

A raw, underproduced angry attack that bores right into your brain.
It will catch the ears of those who can embrace abstract punk sounds or industrial harshness. To be filed alongside The Homosexuals, The Desperate Bicycles, The Instant Automatons, The Prats, Door and the Window, The Versatile Newts, etc etc. Avant / Post -punk madness that leaves you scratching your skull . Noise historians will wonder over the use of Manson references, Burroughs samples and Anti-art manifestos way before the Industrial boys tried to claim them as their own." - Harbingersound. "

...noisier and more abrasive than most first generation industrial stuff, a hell of a lot more punk than, say, The Lewd and intelligent in a scary, vicious bullying kind of way" - Johan Kugelberg, Ugly Things Magazine.
---
---
More from this collection