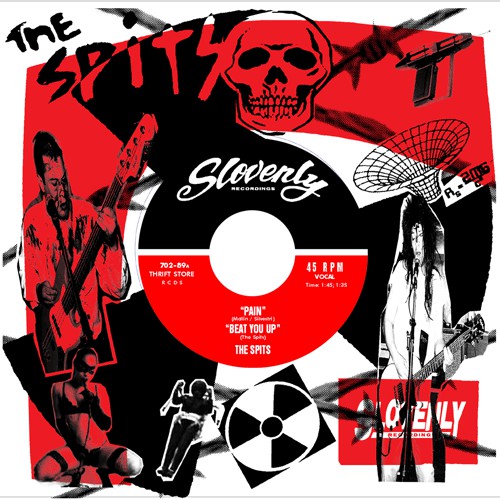 Spits "Pain" 7"
Side A: Pain, Beat You Up
Side B: Army Bound, Planet Failure
To coincide with the release of the new LP by the reigning kings of psychedelic skate punk, Slovenly Recordings is proud to present four additional brand new tracks from THE SPITS on a 45 that rivals any of their long players (and particularly the 19 Million AC E.P. that got Slovenly off our ass to go sign these nutbags in Seattle!) for pure chaos and stupidity. It's been awhile since they last recorded, but The Spits, as always, deliver a quick and trippy Atari 2600 on crack ass-whooping that'll leave you with a double dose of black eye! And if that ain't enough for you, this 7" monster features a cover version of Pain's "I Dig Pain" from the classic punk rock "Battle Of The Bands" episode of C.H.i.P.s! Lesser bands (and ALL bands are lesser than The Spits) have tried in the past to cover this song, but only The Spits give it the weirdness it deserves. Of course Pain lost the battle in that episode, but we all know who the real losers are!  
---
---
More from this collection