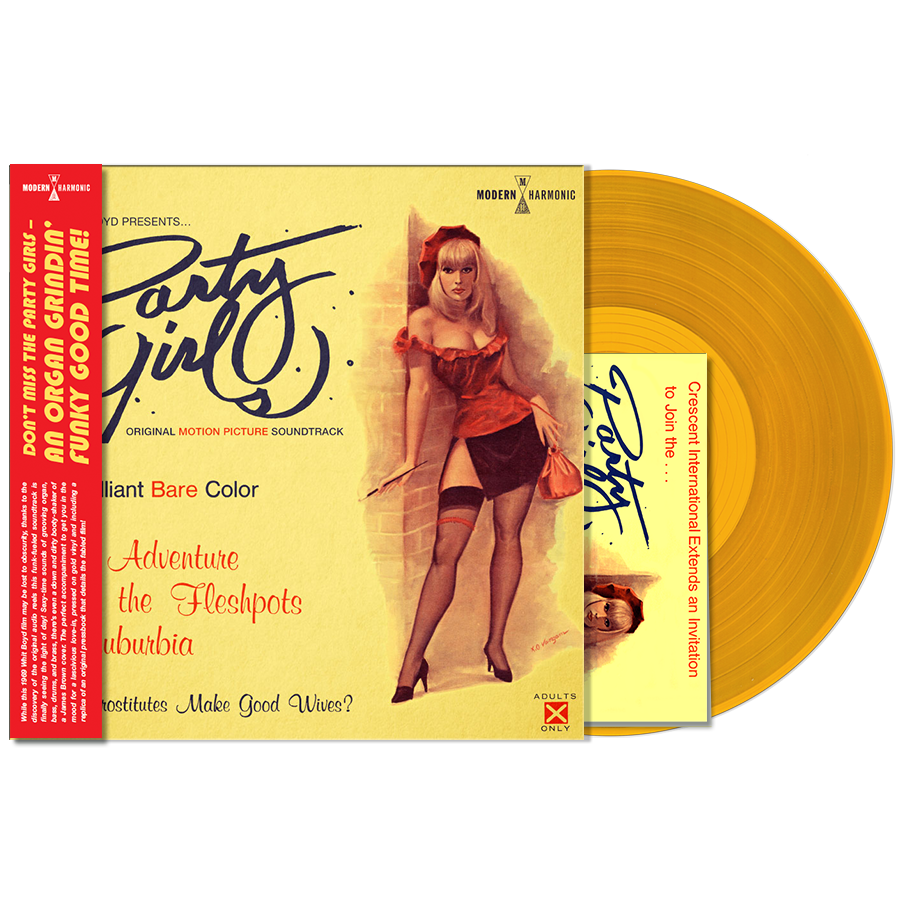 V/A "Party Girls Soundtrack" LP
An Organ Grindin' Funky Good Time!
While this 1969 Whit Boyd film may be lost to obscurity, thanks to the discovery of the original audio reels this funk-fueled soundtrack is finally seeing the light of day! Sexy-time sounds of grooving organ, bass, drums, and brass, there's even a down and dirty booty-shaker of a James Brown cover. The perfect accompaniment to get you in the mood for a lascivious love-in!
Party Girls was released the same year as the nutty horror nudie comedy, Dracula (The Dirty Old Man). Both movies reflect the changing mores of the time and feature full frontal nudity and simulated sex scenes. By 1969, obscenity laws were relaxed so bush and beaver were the new standard for adult motion pictures (and often the carpet didn't match the drapes, haha!).
What blows our minds is that Party Girls had an original music soundtrack (not just library music or a mix of random local garage rock or jazz instrumentals like so many other regional productions at the time). They actually went to the trouble of composing a film score with a hell of a lot of soul. But sadly, nothing is actually known about who composed and performed the music, but we know they were commissioned by Whit, so we've embraced the name the Whit Boyd Combo. The original audio session reels were discovered in an abandoned shed and rescued by Dallas area disc jockey and music historian, George Gimarc, something which adds to the mystique and makes us wonder even more who could be responsible for the funky soundtrack.
---
---
More from this collection