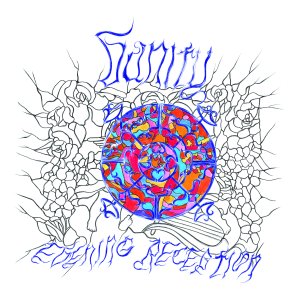 Vanity "Evening Reception" LP
"A lost episode of Fawlty Towers set in the present day astride a shoddy sofa in a den in Brooklyn: Instead of not "mentioning the war" the challenge is to swim through this LP without uttering or even entertaining the tiniest sniff of dearest Nanker Phelge. This proves far more rewarding than throwing a knee-jerk ticker tape parade for the open-tuned greyzone murk of Guitar-Centre blues musicians everywhere and frankly, that would be a lazy disservice to what you're about to hear. Rising up instead, we have the grandiose and pampositical return of the perfectly named, Vanity. Yes that's a compliment, no it's not a real word. Energetic punk consommé indebted to rock and roll but coming across less like the deliberate broken chains of Vans slip ons and Target 501s swapped for sequins, strides, and scarves - but more like an effort forged in Billy Zoom's living room on Warren Zevon's gear as played by the Saints' roadies in a bar that serves really, really, really cold beer. Coincidentally, I would endorse that as a suggested serving. Take a long hard look in the mirror, slyly lit so your cheekbones pop, and preen yourself 'til your skin peels off."
-Jonah Falco, 2018
Each record comes in a matte jacket adorned with stunning art by the remarkable Lauren O'Connor.
---
---
More from this collection