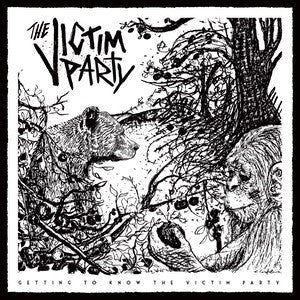 Victim Party, The "Getting To Know The Victim Party" LP
Side A: Spring Mixer, An Evening With Colin, Adam Cook Extinguished Gentleman, Weekend At Kyle's, Tabi Irani: Tragically Fascistic Or Fascistically Tragic?
Side B: Matt Woo (And You Can Too), You're Great I'm Dean Richards, Patrick Mathers Cuts The Sleeves Off, Irreconcilable Similarities
I'm extremely stoked to be releasing this, the second LP by one of the best Canadian punk bands in ages-- it's not a reissue, but once I heard the recording, it became my most-listened to music of 2014 and I had to get it on vinyl. THE VICTIM PARTY hail from Toronto, and feature members of various 'name' bands of the past couple decades, including frontman Colin of Marilyn's Vitamins, whose first EP came out on Ugly Pop seventeen years ago! The music here is very strong, tuneful punk rock, fast-paced and tough with smart lyrics spat out by the duel male/female vocals, and the songwriting is exceptional. This draws on too many influences to be easily pinned down, but it's a good bet you'll dig it if you like Dillinger Four, Leatherface, Marked Men or Cleveland Bound Death Sentence.
---
---
More from this collection