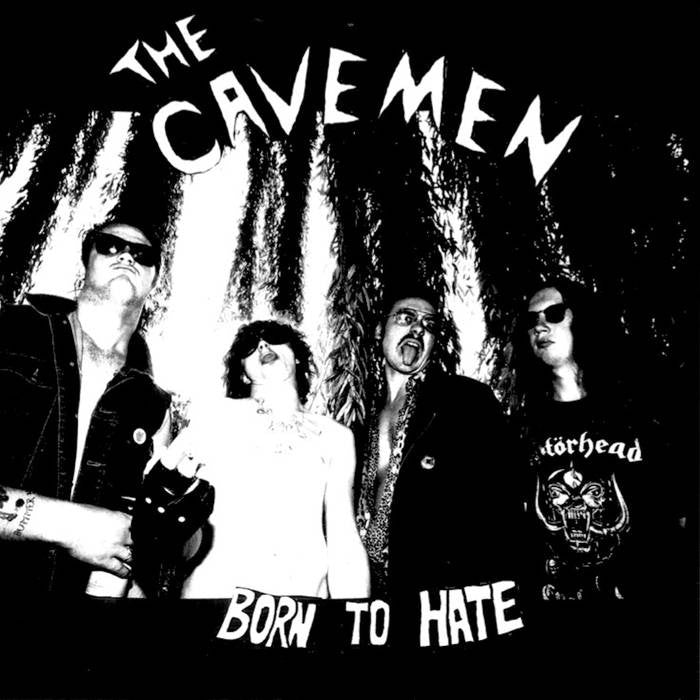 Cavemen "Born To Hate" LP
Side A: Savage, I'm A Mess, I Hate Art, Satan Is Her Name, Speed Of Death
Side B: I Hope They Drop The Bomb On Me, Ain't My Baby, Dead To Me, Nasty Girl Nasty Boy, C.H.A.R.L.I.E., I'd Kill (To See You Dead), Why Won't You?
IMPORT LP
It did not take the release of recent single Too High To Die/I'd Kill to stir up eager anticipation for the new album from The Cavemen, that instinct bred by the band's debut album last year, but it certainly added to the energy of the lustful welcome offered to Born To Hate. Native New Zealanders now UK based within the "grimy streets of London", The Cavemen is one of those proposals you naturally take to or not, but for raw and uncompromising spirit stirring rock 'n' roll, the quartet's punk driven garage rock takes some beating.
That previously mentioned single suggested a new primal ferocity and trashy tenacity had been bred in the band's sound, a lascivious urgency which again fuels Born To Hate. In many ways the release is a continuation of The Cavemen's self-titled debut album; more of the same lo-fi devilry but with this fresh impetus of sonic corruption, the band breaches a new plateau in their salaciously dirty rock 'n' roll.
Savage is the first assault on ears, its blues scented impurity a swift involvement of ears and appetite as sixties garage rock puts on its punk pants for a stomping trespass driven by the rhythmic slaps of drummer Jake and the moody bassline of Nick. As with most songs from the band to date, involvement with feet and vocal chords is swift and full, its ease of persuasion just a warm up for the joys to come as I'm A Mess swoops in straight after. A teasing spicy hook starts things rolling, its inescapable lure soon backed by tenacious rhythms and the scuzzy enterprise of guitarist Jack, in turn his great unpolished vocal backing to the punk attitude bred delivery of front man Paul creating a rousing union hard to resist.
swamp-cover_RingMasterReviewI Hate Art romps in next, its raucous hook littered confrontation assaulting and exciting like a fusion of The Sonics and Eddie and The Hot Rods and quickly in control of hips and feet whilst stirring up a litter of trouble before Satan Is Her Name stalks ears and imagination with the same trashy deviancy and demonic wantonness as bound in its centre of attention. Fair to say floorboards bounce when the song is around, its infectiousness enslaving and instantly matched by that uncaged by the corrosive sixties pop bawdiness of In Love With You complete with eagerly chopping riffs and fab four inspired howls.
There is a taste of Motorhead to next up Speed Of Death, its harsh ferocity and virulent antagonism as catchy as anything taunting from within Born To Hate while showing a broader diversity within the familiar Cavemen sound. That variety continues across the album as songs like I Hope They Drop The Bomb On Me bullies and flirts with its sonically befouling seventies punk/power pop inspired antagonism and straight after the crazed punk 'n' roll of Ain't My Baby ignites an even greedier reaction and union between listener and release.
The band drops down a gear for the excellent Dead To Me, its meaty croon though still loaded with muscular energy as it strolls rabidly through ears with its psychobilly laced garage rock before Nasty Girl Nasty Boy whips up the passions all over again with its The Pirates meets The Flys romp. Pure rock 'n' roll in its most primordial punk breeding, the track is irresistible; a certain pinnacle though closely chased throughout the album by songs like the psychotic UK Subs coloured C.H.A.R.L.I.E. and the ever glorious I'd Kill (To See You Dead). One of the tracks on the last single, it is a belligerent nagging of the senses carrying a great groan of The Saints and The Lurkers to its grouchy contagion.
Born To Hate is completed by the persistent fingering of Why Won't You; a song as seventies pop glam as it is punk in its sonically ravaged way, and an inescapable infection to bring a thrilling release to a boisterously rousing close. The band's songs might and will draw comparisons to others at certain times but every flavour is devoured, twisted, than corrupted again until emerging as part of a riot unique to The Cavemen and right here helping create an album which simply leads you into dirty habits.
---
---
More from this collection