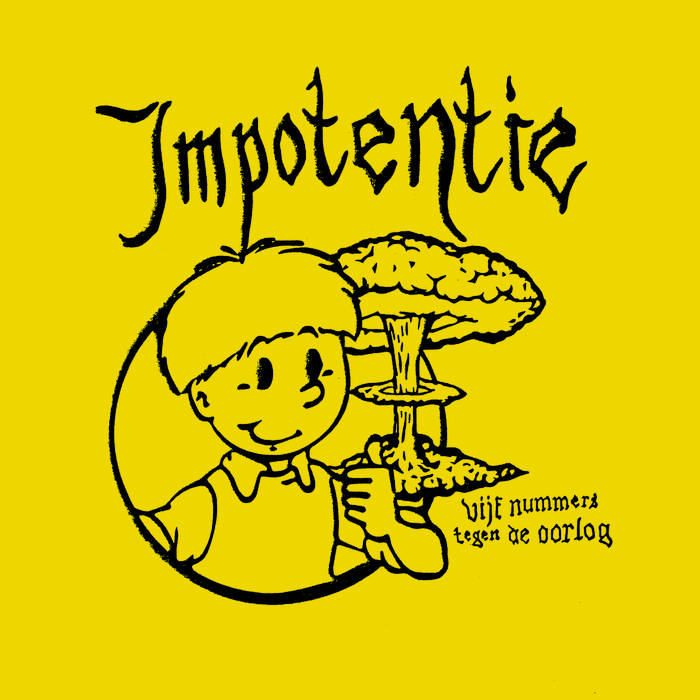 Impotentie "Demonstratieve Opnamens" 7"
Side A: Introductie, Vuur In De Lucht, Oorlog,
Side B: T Stad Slaapt, Belgie Staat In Brand, Uitroductie
Punk – like beer, coffee and films about people in space fucking each other up with laser swords – is an uncomplicated thing. So why do so many people get it wrong? We get it, you have frills you wanna throw in, but throw in one too many and you've got a holy mess on your hands – or a record that no one gives a toss about.

Luckily, no one told Montreal's Impotentie, whose punk racket is gloriously straight-ahead, beautifully ugly and a gritty pleasure to spend time with. Ok, it's not without the aforementioned frills (more specifically, they sing in Flemish… because why not, eh?) but its charms are rooted in the fuck-you-up brutality of hardcore, the fuzzed-out vim of your garage rock faves and a direct simplicity that sounds like the gloopy chaos that comes out when you throw your turntable into a cement mixer. You know, just to see how the records sound inside churning liquid concrete.

With members of Thee Nodes and Omegas on board, you know what you're getting yourself into here. You can taste the bitterness of service station coffee, smell the beer-soaked floors of crappy dive bars and feel the blown-out bass of rotting PAs – it's the product of lifers who love the road and it hits home hard. Even if Demostratieve Opnamens ('demonstrative recordings') turns out to be the only document this band ever produce, it's a bundle of energy you'll wanna drape all over yourself time and again.
Will Fitzpatrick.
---
---
More from this collection