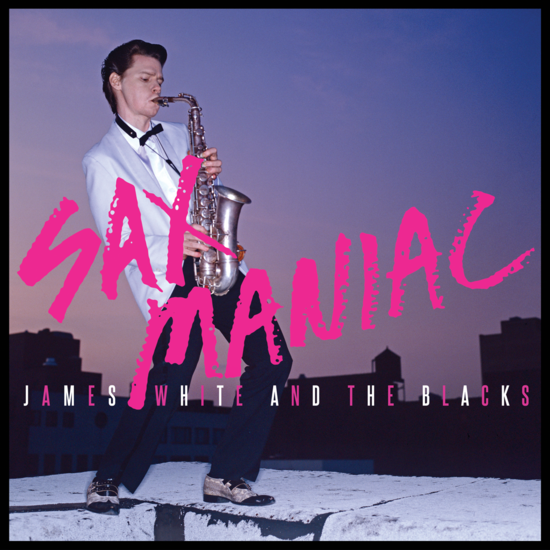 James White And The Blacks "Sax Maniac" LP
180g Heavyweight LP.
Limited Edition Colour Vinyl.
Out of print for years.
4 x Photographic Prints of Images by Edo Bertoglio (Downtown 81, Jean-Michel Basquiet) perfect for framing.
Clear

PVC

Sleeve with logo printed on outer – allowing interchangeable Cover!
Includes Unheard Bonus Track featuring Arto Lindsay (

DNA

, The Lounge Lizards)
Remastered.
Digital Download.
Liner Notes by James Chance (White).
The New York No Wave legend returns to record store shelves everywhere! Long out of print, it's only right JAMES CHANCE (WHITE) was back where he belongs, this time it is in the shape of a lovingly packaged reissue of one of his masterpieces – 1982's Sax Maniac lp.
Currently at the forefront of the popular music conciousness, fresh from a guest performance with Franz Ferdinand on prime time US televisions 'Late Show with Stephen Colbert', this fantastic Redux version of one of JAMES' most revered records showcases his anarchic saxophone and deconstructionist approach to rock 'n' roll through avant garde arrangements and a blending of contemporary jazz with a true punk ethos.
To go alongside the music are four incredible photographic prints of JAMES CHANCE and Anya Philips by Edo Bertolgio, the director of the now classic movie Downtown 81, which starred Jean-Michel Basquiet and a memorable performance by the JAMES WHITE AND THE BLACKS era band heard here on this record. Drenched in an infinite cool, Sax Maniac is a true document of downtown New Yorks' underground music and art scene in the early 80's.
This summer, FUTURISMO are proud to present a limited edition Redux version of this incredible LP. Remastered and containing a bonus track featuring fellow no-wave legend Arto Lindsay (DNA, The Lounge Lizards), this LP comes on heavy 180g limited coloured vinyl with free download.
The record is encased in a clear PVC sleeve with the logo printed on the font, inside it contains 4 x photographic prints of images by the great Edo Bertoglio (Downtown 81, Jean-Michel Basquiet) allowing you to use whichever image you desire as the front cover! It also boasts newly written liner notes by the legendary JAMES CHANCE himself. So get yourself a slice of hot sax – only while stocks last.
Tracklist
---
---
More from this collection