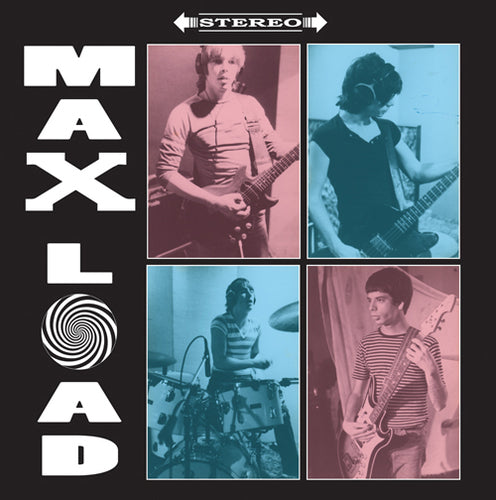 Max Load "S/T" LP + CD + DVD SALE PRICE
When you say Belleville, IL, non-locals usually assume it's one of the zillion Chicago suburbs. It's far from it. Just a few miles across the Mississippi from St. Louis, it's another small, river town. In the late '70s, punk barely happened in St. Louis. Except for Max Load, it didn't even get noticed in Belleville. The river provides far more isolation between the states than one may realize. Bitter geographic rivals for no good reason. That didn't stop these guys from making a noise on their side.
Max Load was formed and began playing live shows around Belleville in 1978. They soon were playing in St. Louis as well, but they never would be treated as equals. They were often forced to play first, before much less competent bands, or dead last, when the St. Louis crowd was anxious to get to the after-party. Last often meant playing to an empty room, rather than being the coveted headlining spot. Out shining most of the Missouri bands around at the time, they released a scorching two song 45 ("X-Rod" b/w "Magazine Sex") in 1979 on their own label. It was mostly intended as a calling card to secure gigs, but some copies were sold locally and a few even distributed by Bomp! Records in CA. The band would go on to record studio demos in 1980 at the request of Epic Records and would commit countless songs to tape with their own 4-track recorder. They were also the only punk band in the area to pay attention to and be featured on the short-lived cable access TV show, Street Beat.
Although Max Load started out with a fairly traditional punk sound, by 1981 they started writing more post punk and art punk influenced material. This new direction can be heard on the included 4-track demos. Like so many other bands, they never got that record deal or big break they were hoping for. By late 1982, most members had moved on to new projects and the band was gone by 1983. It would be another ten or so years before their record would be compiled on the Killed By Death bootleg compilation series and they'd get some much deserved recognition outside the area. The 45 is now considered one of the best Midwestern punk singles of the era, and a copy with the picture sleeve is one of the rarest U.S. punk collectibles.
The Max Load release is comprised of all studio recordings from 1979-1983. The X-Rod 45 is included, along with 22 never-before-released 8-track and 4-track demos. The package includes a 14 song LP, a 24 song CD and a DVD that features a 20-song live performance, recorded for cable access TV in 1981. The CD and DVD come with a title card in a protective sleeve that's tucked inside the LP jacket, along with a double sided 11"x17" insert featuring numerous photos, gig posters and extensive liner notes.
Tracklist
Vinyl Tracks
A1

X-Rod

2:00

A2

Magazine Sex

2:27

A3

Va-Va-Va Vicky

2:18

A4

Goin' Out Tonight

2:29

A5

You're A Blur

2:03

A6

Park My Motor

2:10

A7

Change Your Channel/Taking Over The World

4:39

A8

Mini-Fad

0:40

B1

French Maid

3:18

B2

Stereo Vision

3:50

B3

Nothing Box

2:56

B4

Blue Green

2:32

B5

Things Are Different

2:49

B6

Wishing Machine

3:27

CD Tracks
1

X-Rod

2:00

2

Magazine Sex

2:27

4

Goin' Out Tonight

2:29

5

You're A Blur

2:03

6

Park My Motor

2:10

7

Change Your Channel/Taking Over The World

4:39

8

Mini-Fad

0:40

9

French Maid

3:18

10

Stereo Vision

3:50

11

Nothing Box

2:56

12

Blue Green

2:32

13

Things Are Different

2:49

14

Wishing Machine

3:27

15

Rapidly Expanding Universe

3:38

16

Hot Rods From Hell

3:09

17

I Kiss Your Shadow

3:08

18

Machine Man

3:05

19

I Become Translucent

2:57

20

Cold Blast

2:45

21

Monster Disco

3:24

22

Zero Zone

2:50

23

War In Tokyo

3:22

24

Va-Va-Va Vicky (Version 2)

2:32

DVD Chapters/Songs
1

Industrial Action (Incomplete)

2

Brave New Tech

3

Change Your Channel

4

Feeling For Flesh

5

Soviet Spy

6

Park My Motor

7

(La Interviews Max Load)

8

Alternative Girls

9

Beat Safari

10

X-Rod

11

Magazine Sex

12

Graphic

13

Distance

14

Taking Over The World

15

You're A Blur

16

Positively Neutral

17

Section F

18

Competition Zero (Sharp Shooter)

19

She's Sharp

20

All Your Secrets

21

Va-Va-Va-Vicky
---
---
More from this collection