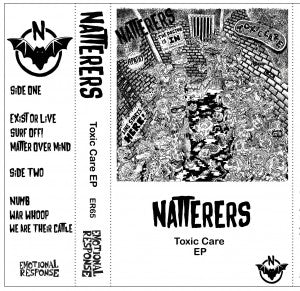 Natterers "Toxic Care" Cass
Exist Or Live, Surf Off!, Matter Over Mind, Numb, War Whoop, We Are Their Cattle
Raging female fronted hardcore punk from Yorkshire! Carrying on the fine tradition of female fronted punk bands from the UK in the style of many Anarcho 80s punk bands such as DAN, Joyce McKinney Experience, Sofahead etc. Stylistically the band are influenced by Circle Jerks, Black Flag, Dead Kennedys, Adolescents, The Damned et al. Singer Emma comes across like Poly Styrene on steroids.
Arriving on the scene in 2016, seemingly out of nowhere with the fully formed debut release "Demo '16" NATTERERS caused instant excitement within the punk community. "Toxic Care" is an equally dazzling 6 song EP, highlighting strong songwriting with a vibrant and engaging twist on modern hardcore.
Emotional Response is proud to release the limited, pro-dubbed cassette version, with lyric insert and download code.
---
---
More from this collection