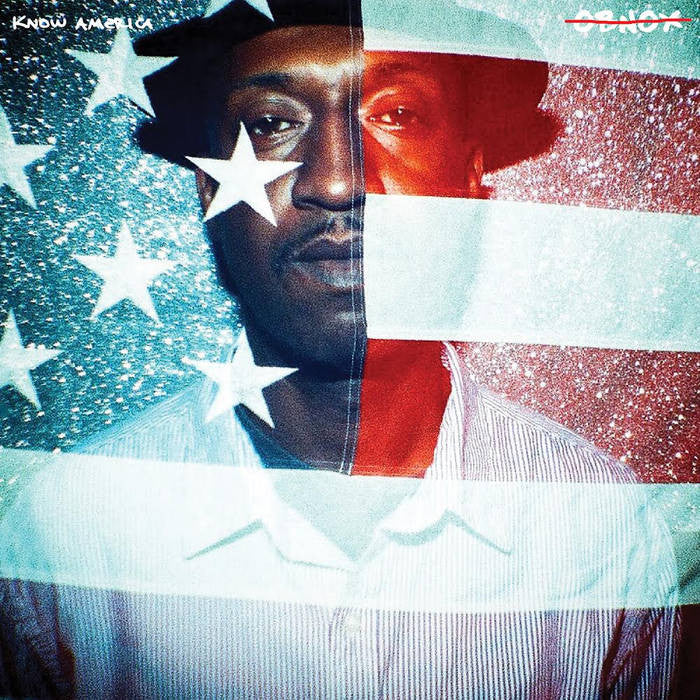 Obnox "Know America" LP
Side A: Signal Takeover, Grease, Cracked Up, Menocause, Loudpack, Village Idiot
Side B: Hillbilly Intervention, Freaky, Life Long Vine, Situation Comedy, Powerhouse, Safe Harbor
Coming at you direct from Cleveland, Ohio, Lamont "Bim" Thomas has transitioned seamlessly from journeyman sticksman in some of the state's finest bands (This Moment In Black History, Unholy Two, Puffy Areolas, Bassholes, etc.) to the full-on phenomenon known as Obnox. From
a foundation of dirt-level garage punk, Thomas sculpts deep cuts out of blown-out beats, redline guitar damage, and soulful singing, as if your local gospel choir had been raised on a steady diet of The Pagans and Back From the Grave comps. Incredibly, 'Know America' -- Obnox's fifth
full-length -- is the second of three albums to come out in 2015. In addition, 'Know America' is the first of two albums this year on NYC label-to-watch Ever/Never Records. Part of an ambitious Ever/Never 2015 release schedule, 'Know America' secures Obnox's top ranking
amongst the creme de la creme of the worldwide underground.

'Know America' is a loose concept album, something like Thomas' deep soul take on 'Pump Up The Volume' or 'Airheads'. Right at the start, on "Signal Takeover," Obnox is hijacking the radio waves. A DJ that sounds suspiciously like Thomas, let us know that we are tuned to "Radio 420
WEDE" and that we better prepare for some "trunk punk." In case you haven't picked up what he's laying down, Thomas informs you that the LP you just slapped on your turntable is "reefer on wax."

The beat-driven "Grease" is a statement of purpose -- a manifesto of sorts -- as Thomas sings "This is the party where I like to be/Thank you for coming and inviting me." To Thomas, music is a two-way street. You're either coming towards him looking for a good time, or heading away
with a big fat smile on your face. "Cracked Up" is pure Midwest basement punk, more tuneful than it has any right to be. That's Obnox's secret ingredient -- good songs. Simple as that. Finding Thomas in a vulnerable mood, the gorgeous "Menocause" is a stately reverie, a peek
behind the curtain. If it were thirty years ago, Spaceman 3 would be covering this wonder of slomo guitar fuzz and minimal percussion. In the vein of 'Louder Space' hit "Molecule," "Loudpack" is another resounding success in Obnox's all-natural blending of hip-hop and noise
rock. Slammin' beats, big bass hits and a guitar so grimey you'd have to get on your hands and knees with a toothbrush to scour its grout clean. "Loudpack" is exactly the kind of block-buster that dudes who drive around with the windows open and the stereo up should be cranking from
their overtaxed sound-systems. Firmly making it his own, the Obnox cover of Columbus mainstay Tommy Jay's "Village Idiot" amplifies the main guitar hook into a twist on the Breeders' alterna-rock smash "Cannonball," and too bad it's not the '90s because Obnox could
have competed for play on MTV -- at the very least Beck would have played him during a guest hosting gig on '120 Minutes'.

"Hillbilly Intervention" is a station break that inverts the typical hip-hop skit into a crackerbaiting segment that also functions as a breather. And you'll need that moment of rest before Obnox busts into "Freaky," a two-minute barnstormer originally by Canadian cuddlecore queens
Cub -- Thomas injects the song with booty-shaking low end making it seem like some recentlyunearthed Sly Stone b-side. On "Life Long Vine," Thomas is in spooky mode, recalling the vaguely sinister moods of early Pink Floyd and Pretty Things. "Situation Comedy," written by
Cleveland spazz-pop maestro Mikey Machine, is where everything boils over, soaking you in scalding-hot rock action.

Working as his own mixmaster, Thomas keeps the radio dial spinning with a heavy-as-dirt version of Bo Diddley classic "Power House." The album ends with every DJs favorite part of the 24 hour cycle -- "Safe Harbor" -- a haven for bold, free speech and in-your-face music
pushed into the red. Obnox is on his home court here, sovereign territory even. Thomas is not only familiar with the lay of the land, he's out there discovering new horizons with each new release. Know America is another feather in the man's cap. Onward and upward!
---
---
More from this collection