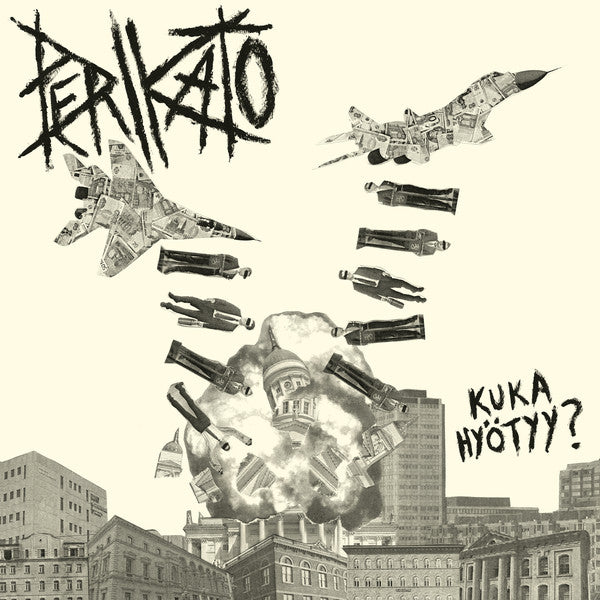 Perikato "Kuka Hyötyy?" LP
Tracklist
A1

Kuka Hyötyy?

A2

Edullista Huomista

A3

Kastraatio

A4

Suuri Jälleentuhoaminen

A5

Natokiima

A6

Maa

A7

Tuhon Rihmasto

A8

Neukkusimulaattori

A9

Geneettinen Käsky

B1

Uusliberaalin Unelma

B2

Hyvinvoinnin Ongelma

B3

Hyödytön

B4

Tasa-arvon Kupla

B5

Huono Tuote

B6

Bileet Piilaaksossa

B7

Viimeinen Salakaato

B8

Pienen Miehen Taistelu

B9

Korjausliike
In the vocabulary of Svart Records the word "hardcore" has no connotations to metal or adult entertainment. Instead, the word brings up images of mohawk-waving punks in studded jackets with amps cranked to eleven, blasting out burst of riffs played at speeds which break necks and damage hearing.
Enter PERIKATO, three years after their last 7 inch, with a full length album. The members have been busy with other bands such as Kohti Tuhoa, Speedtrap and Horse Latitudes. Perikato's means of expression is classic hardcore punk in an early eighties style, often compared to bands like Kirous, Isterismo, Wretched. At times the foursome's pummeling onslaught borders on power violence, even.
Although one might think that for a genre as relentless as hardcore punk seven inch EPs might be the best dosage, Perikato possess enough creativity to capture one's attention for the entire span of these 18 tunes.
---
---
More from this collection