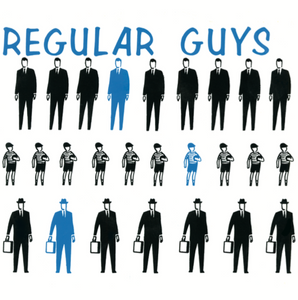 Regular Guys "It's A Secret" 7"
Regular Guys "Its a secret" EP 7"
For fans of the legendary midwestern independent label Titan Records, it's no secret that this record is all about pop. Unfortunately at the time of its release in 1979, the sole vinyl release of Lawrence, Kansas' Regular Guys proved to be somewhat more of a well guarded secret. Despite bursting at the seams with hooks and well crafted melodies that showcased what a superlative job the Regular Guys did ditching the approach of their old punk cover band the Victims and jumping aboard the then-burgeoning power pop bandwagon - and in spite of being recorded at Kansas City's Chapman Studios (responsible for recording legendary Titan artists Gary Charlson) the band's eponymous EP proved to be a commercial disappointment. With no legit label to back them up and an evident lack of self-promotion from the band, copies were equally divided between band members and resulted in poor – not to say non existent - sales.
Now, all of that is about to change. Meanbean is proud to be reissuing this hard to find powerpop masterpiece! This high quality 300 copy reissue is housed in a glue pocket sleeve with bonus insert packed with never seen before pictures, fliers, and press clips. With a deluxe treatment like this, no need to break the bank hunting down one of the ever-elusive and always-pricy original copies of this "should have been on Titan" classic! OK, time to cut with the chit chat. Do yourself a favor: pick up a copy of this EP today and show the world just how pop you can get!
Originally release in 1980 on the National Recording Artists Label
---
---
More from this collection