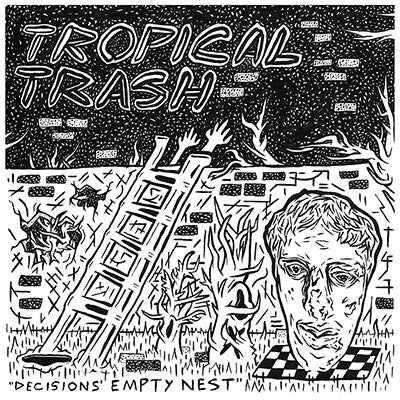 Tropical Trash "Decisions Empty Nest" 7"
Side A: Bad News From The Past, Early Wish
Side B: Exit Dust, Troubleshot
Burned minimal ROCK art sourced from Neither North Nor South, America -- recorded to 1/2" tape in Neither East Nor West, America over the course of an afternoon by a seemingly living person named Paul. White hot rhythm-and-Jazz Fry finance unit TROPICAL TRASH return tugged from the hound's jowl!

Big stuff here from some reasonable fellows. A personal brand of fairly physical Non-Agenda loud style music -- ropey poly-boogie on the no-frills end of one's contempo fire rock spectrum. These are modern guys finding out how to live in any way they please. No messages.

The discoverable instrumentation is a combo of adults on vocals, playing primarily one Guitar and also an Electric Bass with Full Size Child of a reasonable constitution on Drums. All of their names vary but those of the two executives.

One long player (Load Recs), three 7"s (this one + two previous EPs on Sophomore Lounge), a plume of tapes 'n' CDRs...the rest is endless. Freeform hard-scrabble to right-angle primary color tunes...paper crawling up the arm of the cop...a...uh...

A fine time!
---
---
More from this collection