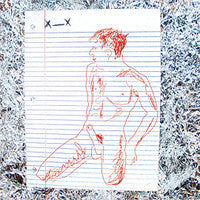 X __ X "Sticky Fingers" LP
Side A: No Non ¢s, A., Rattler, No No, Don't Rock The Flower / Felt Hammer, Moorish Weirdo, I'm So Fucked Up, Your Full Of Shit/Tool Jazz
Side B: Approaching The Minimal With Spray Guns, Drapery Hooks (Of My Love), A., No Non ¢s, The Social Whirlpool, Agitated, Dolly Boy, Your Full Of Shit
Black vinyl version. Includes printed inner sleeve.

Tracks A1, A2, B1, B8 from 45s.
Tracks A3 to A5, A7, A8, B2 to B4, B7 recorded live.
Tracks A6, B5, B6 from practice tape.

"For Jim Jones, Jill Marotta & Laura Kennedy."

Copies that Morton sold on tour had "Rock Hall Official Edition" stickers applied to the shrinkwrap (That's what these are).
---
---
More from this collection